ANNONSEBILAG FRA COLUMBUS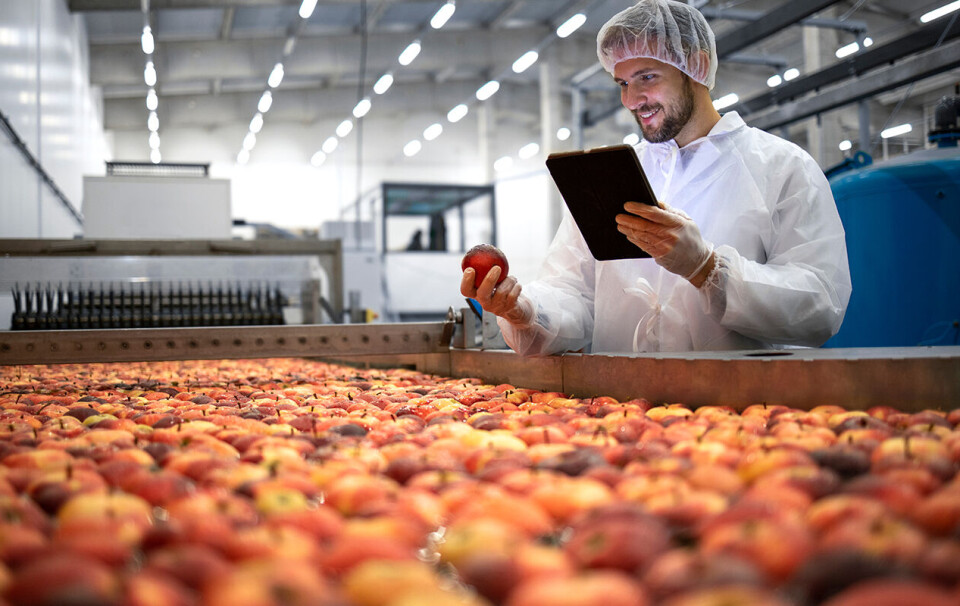 Create value together going to the cloud
Like other industries, food & and beverage companies must initiate strategy planning and change management at the very start of bringing their business systems to the cloud. That's the best way to avoid additional costs, effort, and business interruption. And the trick is to define value with a people mindset.

Common problems organizations in the food and beverage industry run into and the role of change management in going to the cloud. We also look at how you can increase the possibility of reaching your business goals by identifying where the true and sustainable value will come from. 
Here you will find these topics:
Major trends in the food and beverage industry
Understand and engage your target groups
Driving value and change
Planning and preparation
Customer preferences
Customer stories
Summarize?
Major trends in the food and beverage industry
The food and beverage industry has undergone its fair share of change over the past few years. Most recently, the soaring costs of energy, fertilizer, animal feed, and transport have added additional pressure on food businesses to streamline production processes while still providing high-quality products.
While the food industry is facing some new challenges right now, that doesn't mean sustainability should be less of a priority. Here are some of the latest trends.
Increased food security and animal welfare. Manufacturers must have control over the entire value chain, including all its suppliers. This includes transparency from origin and ingredients in food, improved and greater control of animal welfare in production and better-quality control. You can read more about this further down the page with Norsk Kylling.
Market changes and consumer power. Trends that influence customer demand from food and beverage manufacturers are changing faster than before. Customers expect to eat on the run, to know if what they are eating is sustainable or ethical, and they want to prep quick, easy meals.
Sustainable practices continue to have top priority. With climate change being more important topic than ever before, an increased number of consumers are striving to support businesses who adopt a sustainable mindset (and shunning those who don't). In fact, recent research from WRAP (Waste and Resources Action Programme) found that over 60 per cent of consumers think businesses should do more to have a positive impact on climate change. 
Plant-based food continues to rise in popularity. More manufacturers are boasting about their vegan credentials.
Reducing food waste and AI. Technology such as automation, AI and machine learning can improve both production efficiency and output. This allows you to better track ingredients across production lines to accurately predict when you need to reorder stock which, in turn, improves cost efficiency. Additionally, we're now seeing food businesses using innovative ways of disposing of their food waste. With emerging apps such as TooGoodToGo (an international app) you can reduce your environmental impact and benefit your consumers by offering food that would've previously been wasted at a discounted rate.
Understand and engage your target groups
Moving your business systems to the cloud is fundamentally about change for the better, but change isn't something that just happens. Change must be managed to avoid shocks as the project rolls out and to ensure your business's needs have been identified and addressed in detail. Managing change, and exploiting the value of ERP systems, is about overcoming the possible restraint and reluctance among the future users of the system, it's about adoption.
When a cloud project is properly executed, value is added for all stakeholder groups; customers, employees, and suppliers. Exploring what the benefits are for users enables you to build a clear value chain into your plans and into the direction your cloud project takes, whether that's ERP or other cloud platforms.
This approach is about putting value first but remembering that it's also a people project. Employees sometimes have a limited understanding of a company's vision and are most often aligned with the goals of their business area. To eliminate this distance between company goals and the people responsible for helping to achieve them, you need to listen to employees' concerns and engage them from the outset.
The best practices in change management will unearth better working methods, as advanced analytics provides insights across the value chain. As their roles and abilities are clearly defined, the users will feel involved with the change and will be more inclined to contribute to its success.
This critical discovery links the long-term strategy to the immediacy of change management. It encourages sharing of goals and diligent exploration of how to achieve them and alignment of people to shared outcomes.
Driving value and change with industry specifics in mind
Engaging the users early and mapping out their change journey will motivate them and help all parties identify what the user benefits can be. The key is to offer convenient and relevant information to the right people at the right place and time.
Steve Lyon, CE Sales Specialist at Columbus, says prospective customers often expect to take their systems and processes and move them to the cloud.
– The problem is that companies often focus on the cost of going to the cloud rather than value creation.
«High failure rates are often not the fault of the project. The problems start at the planning and preparation stage»
UK Director of Strategy and Change Ian Kingstone supports his colleague and points out that it can be quite challenging because many customers don't talk or aren't used to talking about value.

– Customers come to us to talk about technology. We often must turn the discussion around and ask why you want to move to the cloud unless you are generating more value in your business? This approach also applies to the food and beverage industry.
– There is a difference between transformation and change. Let's not just jump from what you have now and into the cloud – let us drive more new value into our organization when moving to the cloud, which drives change, Kingstone says.
– When transformation is done right, it's like a caterpillar turning into a butterfly. Done wrong, you'll end up with a fast caterpillar. This is from a recent observation by Principal Research Scientist George Westerman of the MIT Sloan Initiative on Digital Economy, and it is a good metaphor, he says.
Planning and preparation
High failure rates are often not the project's fault as shown above. The problems typically start at the planning and preparation stage. The essential stages are sometimes omitted because they're either seen as obvious or management believes the issues will resolve themselves.
Here are some classic assumptions:
Users will adopt it because they'll see the benefits (enormous, wide-ranging)
It's cutting-edge technology. They'll get used to it (click, drag, drop; how hard can it be?)
This is a technical project. The IT team can take care of it. How the business uses it is up to them (we've given them the tools, now it's up to them to open the toolbox)
These are known traps, but businesses keep falling into them.
– Success is about people working together. And you can achieve it by enabling people to share information and skills, acknowledging the value of giving and receiving help and advice, and being open and susceptible to change, Kingstone says.
Change management strategies for successful cloud implementation come from giving prominence to these truths.
Kingstone emphasizes that every cloud project must start well before diving into the technology. The foundations of success come from formulating inclusive strategies for change management. They should be built on business value, people, process, and technology and data as a holistic framework, using value to drive businesspeople to pull on the change rather than IT pushing it onto them.
Customer preferences
One of the most common reasons companies want to change is to seek a better understanding of available data to improve their business decisions.
Food and beverage organizations want to understand their customers better, including customer insights and focus on customer preferences. The challenges they have is to know what to do with the available data; how to integrate information, how to provide more efficiency, save cost, and automate as much as they can.
Four key reasons why food and beverage businesses change:
Data
Customer
Integration
Processes and efficiency
The wildcard in change and transformation is people
– In terms of customer expectations, they have changed dramatically. It is hard to respond if you are not able to be flexible and adapt quickly. Cloud technology allows you to be flexible and agile, Steve Lyon says.
Cloud technology becomes an enabler driven by feedback and success
– We help our clients to hunt where the value is. We talk to the business about their ideas, and we ask them to prioritise the most important ones for their business We discuss, align mindsets, and look at the necessary capabilities needed to achieve the desired outcomes and at what pace they can reach their goals.
Great value chain and animal welfare
A great example of creating value in the cloud is the Norwegian chicken producer Norsk Kylling. The company aims to be climate neutral by 2030, and the ambition is to create the world's best value chain. This includes improving animal welfare by using a slower growing chicken, giving them better space and daylight.
Norsk Kylling chose Columbus and Infor during their implementation of the new ERP solution in the cloud. Columbus will be providing management information and digital control throughout the value chain.
– A chicken having better living conditions tastes better, says Torfinn Utne, IT director at Norsk Kylling.
– The best possible animal welfare and responsibility in our value chain is the cornerstone in our strategy.
Animal welfare is the key factor
– To be successful, we are completely dependent on smart systems as well as accessible and correct management information coming from the digital systems, which seamlessly collects and structures large amounts of data throughout the entire value chain."
– The purpose is to constantly strengthen our innovation and improve project outcome. Columbus helps us keep up to date and make good digital choices, he says.
Utne says that it has been a complicated but very successful project.
– Although we have chosen a standardized ERP solution from Infor, one must not forget that this has been an interdisciplinary digitization process throughout the whole organization, he emphasizes.